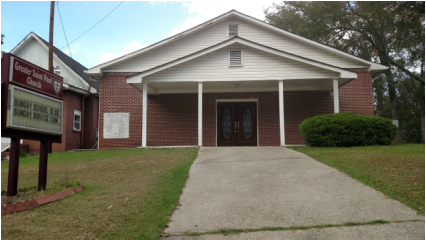 About Greater St. Paul A.M.E.
The St. Paul A.M.E. Church originated as a tent on the Sweetwater Creek in Austell, GA around the late 1800's. A prominent townsman, Mr. G.O. Mosley on 22 February, 1896, donated land for the congregation to have a place to worship.In 1905 a small frame building was erected on this site with Rev. A.A. Martin serving as pastor and Mr. Silas Pitts Sr. as chairman of the Board of Trustees. Mr. Sam Wilson, Will Wilson, Green Poole and Will Campbell also served as Trustees, and worked diligently in erecting the First Church House. In 1923 Mr. Homer Pitts, Sr. was elected Chairman of the Trustee Board and during his term he accomplished the task of bricking the outside of the church and installing inside bathrooms and running water. Mr. Pitts served as Chairman for over forty years and as honorary Chairman until his death in 1979.

In 1963, the members saw the need for a fellowship hall which was built and secured through the help of Rev. R.B. Colbert, Mr. T.R. Weatherhall and Mrs. R.M. Few.

On May 4th, 1963, a board meeting was held and an agreement was reached to incorporate the church. On May 26th, 1964, the church was officially incorporated and the name was changed to the Greater St. Paul A.M.E. Church, Inc.


---
Meet the Pastor Of
​ Greater St. Paul AME Church

Rev. Sharon M. Adair-Harden was born on January 17, 1966 in Magnolia, Arkansas, to the Presiding Elder (Retired) Thomas W. Adair and Ruby Cross Adair. Her personal walk with Christ began at an early age, and she served faithfully as the musician for Beech Hill AME Church (Rev. Clarence Reynolds) and Free Union Baptist Church (the late Rev. Charles Hughey). After moving the Atlanta in January 2002, Pastor Sharon joined the Greater St. Peter AME Church at the River's Edge in Jonesboro, Georgia. It was there that she accepted her call into the ministry under the leadership and guidance of the Rev. Isaiah Waddy, later she was licensed by Presiding Elder Larry Hudson, Sr. She was ordained as an Itinerate Deacon on May 23, 2014 during the Atlanta North Georgia Conference at the Flipper Temple AME Church, by Bishop Preston Warren Williams.
Educationally, Pastor Sharon earned a Bachelor's degree from Ashford University in Healthcare Administration. She later earned a Master's degree, with a double major in Business Administration and Healthcare Administration. Rev. Sharon is currently working on a Master of Divinity degree from Payne Theological Seminary.
Before moving to Atlanta, Pastor Sharon worked at Magnolia City Hospital as a Certified Respiratory Therapist for 13 years. She now works for the Atlanta VA Medical Center, where she has been employed for 6 years, and she is a Master Sergeant, serving twenty –three (4 years active duty) years in the United States Air Force Reserves. Pastor Sharon has one sibling, Gregory Adair. She is the proud mother of two beautiful children, Cerosha & ShaRonda, and the grandmother of 4 beautiful grand-children, Caleb, Zoe, Devin, and Kyla. In her leisure time she enjoys spending quality time with her family. She enjoys watching movies and reading, but above all fulfilling the will of God is her main purpose. She is a dedicated woman of God with compassion, love, and grace who has a heart and compassion for young people. She is a woman of strength in the face of adversity. Her favourite scripture is Jeremiah 29:11, " For I know the thoughts that I think toward you, saith the LORD, thoughts of peace, and not of evil, to give you an expected end," and her favorite song is, "Lord, I Am Available To You."
---
Stewards

Steward Protem: Nikki Elder
Willard Waldon
Wanda Tyree
Rae Smith
Contura Burdett
​Vickie Potter


---
Board of Trusties

Head Trustee: Craig Jones
Ronnie West
Beverly Jones
Audry Smith
Alvin Poole


---
Stewardesses
Head Stewardess: Barbra West
Hattie Watkins
Wilma Johnson
Janet Woods
Janette Phillips
Mary Lovejoy

Jr. Stewardesses
Elizabeth Elder
Samantha Bostic


---